Introducing the 2021 Garden Tour Lineup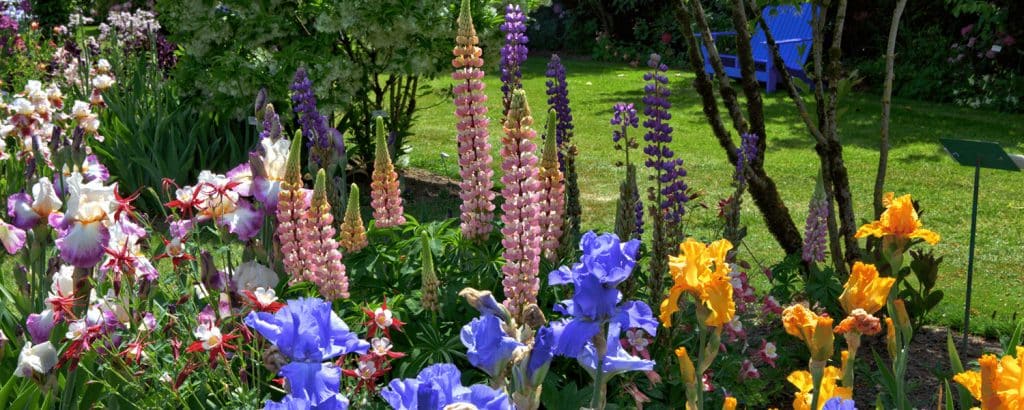 We're getting excited about our upcoming 2021 Garden Tour, just around the corner on July 3rd (10 am – 4 pm)!
Each garden featured is a unique and stunning representation of the variety of landscapes that can be found within the city of Sandpoint. The owners of these stunning properties have invested much time and thought into nurturing gardens with personal touches and organic beauty. Christ Our Redeemer's Community Garden is this year's featured community garden. It has a strong purpose in improving healthy living for the local community and provides fruits and vegetables to local residents and Sandpoint Food Bank.
Without further ado…
---
Strolling Garden
Mary Toland | 1105 Birch St.
Take your time enjoying the magic of this strolling garden designed in 2019 by Karen Olsen, owner of Siteline Design and Aster Garden Center. This garden was transformed from a 'wild' English garden to its current beauty and inviting visual elements. Of particular note is the stone labyrinth in the front yard. This meditative circular pathway is open to the public and is visited by local residents. Feel free to walk the path and place a stone or crystal at your chosen location. The lovely Hellebore plants in the front yard beds and Irises next to the driveway hold a tender place in the owner's heart, as these plants came from her mother's yard in Yakima, WA. As you approach the breezeway to the back yard, don't miss the driftwood piece with fragrant honeysuckle weaving through its branches. Passing through the gate into the backyard, you will be transported into an inviting garden of original plantings, vegetable garden, broken pottery and glass designs – including a 'plate' fountain! Peonies, Clematis, Delphinium, Wild Geranium, and Syringa are just a few of the mature fragrant perennials. The deck, sleeping porch, and rustic tool shed structures create special structural additions as you meander along the garden path. And don't miss the repurposed blue water pressure tank tucked behind the tool shed that now serves as a compost bin. This lovely garden is a gem you will not want to miss!
---
South Sandpoint Solace
604 Superior
This garden had its beginnings as a beautiful but wild free-form country garden before the present owners moved in 27 years ago; now they are shaping it to their own vision and it continues to be a work in progress. Having Dutch ancestry, the owners have scattered hundreds of showy tulips throughout the property, with most of them centralized in the interior of the property. Fewer tulips will be seen in the front yard as the local Sandpoint moose seem to enjoy the tulip buds before they bloom! Take special note of the beautiful bicolor lilac bush in the front corner of the property which was planted in the 1930s. It was moved to its current location 20 years ago and continues to do very well today! Be sure to view the beautiful custom metal gate at the entrance to this colorful garden. It features large cut-outs of tulips and also handprints from the family's daughters as young girls. As a result of removing two huge trees in the backyard five years ago due to safety concerns, a new opportunity was created for the owners to radically redo the backyard with an outdoor living space including patio, fireplace, and "living wall". This area is covered seasonally by shade sails, giving protection from sun and rain during the summer months. As a special note, the massive 6 x 6 outdoor table three inches thick and with a live edge, was made with wood from one of the fir trees that was removed. This magnificent piece was made with the help of the resident's oldest daughter. Automated irrigation is operated throughout the property including the lawn and most landscape features, including the raised beds in the garden- another bonus due to the double lot of this property. The irrigation decision has been unbelievably helpful and allows the owners to concentrate more on the fun stuff! Take a moment to feel the peace and quiet of this garden as is often enjoyed after a workday, or with coffee on a Saturday morning.
---
Sanctuary at the Pier & Pacific
Klaue / O'Neill | 215 Pacific
Neighbors, community members and Sandpoint visitors alike have admired this privately held corner garden for decades. Planted next to the Klaue / O'Neill residence, it is also fortuitously adjacent to the Third Street Pier. Most folks walking past for respite at the lake eventually pause to appreciate the garden's tranquility and seasonal pops of color. Founded and nurtured passionately by Teresa Deshon and her full-time gardener in the sixties, this lovely garden was the same place a lasting friendship grew with Augie and Mary Klaue. The Klaue family have spent their summers and winters in Sandpoint since 1961. Fast forward sixty years, Augie & Mary aren't here but their extended family and the garden continue to flourish in the community. Dan Klaue, his nephew Jeff O'Neill & his wife Gina are now returning the garden to a version of its former glory. Taming the wildflowers, nurturing thriving plants and trees, and planting new vibrant perennials has been the initial focus inspired by the 'English Garden' design concept. You can easily close your eyes and breathe in the charm and fragrance of such a garden! Take note of the variety and colors as you stroll through the interconnecting paths in this magical garden sanctuary. And be sure to admire the metal artwork in the front corner of the garden. Dan commissioned Allen Dodge to sculpt this piece celebrating family and inclusivity called "Sanctuary". Inspirations for improvements continue, ranging from a small vegetable garden to a Buddha sculpture now sharing a presence in this lovely English style garden. Honoring the character of its delightful blooming origins, complete with the pink derby fish mounted on the Garden House, this peaceful family oasis offers sanctuary for all of us lucky enough to slowly pass by.
---
Roses, Wonderful Roses
Cory Collin | 513 N Division
This compact garden features roses soaring to the eaves of the home, forming an alluring tapestry of color and fragrance. The owner of this garden prefers to allow the bushes to grow to their natural size, creating an aura of romantic, voluptuous abundance. Huge blossoms in vivid hues surround the home in a fantastical display of beauty and form. Trees in the front yard provide screening from the street, with an interesting mosaic of rock and bark beneath. Stroll to the back yard, where blueberry bushes, shrubs and fruit trees surround a play area. Look up! Whimsical bird houses adorn a many branched tree stump, and are tucked around the garden. Even the mailbox features bird houses both low and high above. Please Park at the library and walk half a block north or park on Alder and cross Division safely to the Garden. For those with limited mobility, parking at Blue Dog Automotive is allowed; but please do not block the work bays and keep the two entrance/exit driveways clear.
---
Pollinators' Paradise
Barbara Crumb | 1422 Walnut St.
Sitting mostly in the sun, this large corner lot residence is home to a stunning variety of flower beds, melodic chimes, and other artistic pieces. During 3 of the 4 seasons, any passerby will enjoy the beauty of the many perennials and fruit trees. A few favorites of the owner include the Day and Asiatic Lilies, Iris, Delphinium, and Clematis. Much thought has been put into the color combinations and the variety of plants and shapes in the various garden beds. About 20 Lilies and over 200 iris have individual names visualized on small placards. The entire area between the sidewalk and street is a 'Zeroscape' zone- no additional water is needed for these drought tolerant plants. Along the adjoining property are 4 mature fruit trees that provide shade relief during the heat of summer. While meandering through this colorful garden, note the horseshoe gate to the front entrance of this home. These 'shoes' belonged to the family's horses. This garden is a true display of much time and caring dedication for all to enjoy!
---
Tranquil Retreat
Rae Charlton | 401 S Euclid
The fortunate current steward of "the sweet little yellow house on the corner of Euclid and Michigan" is grateful to all the former owners who have taken such good care of it (100th birthday coming up this decade!). Rae bought it from Steve Lockwood and Molly O'Reilly, who added significant and sensitive improvements such as the covered walkway. Molly hired professional help in designing the garden space, which has "good bones", as gardeners say. Molly planted over 500 bulbs, feeling everyone enjoys the rush of color early spring furnishes. Rae has added some hardscape features, including a stone fountain designed and created by Tim Thomas and a rusty metal sculpture titled "Oh happy day!" by Alun Dodge. Years ago, while in Spokane for the annual art festival, she fell for a wind sculpture by Seattle artist Andrew Carson. It is fun in all seasons, but especially in the dominantly black and white world of winter. Visitors will discover a few other garden art pieces as they walk around this small city garden which provides Rae the great joy of helping plants grow. She loves scouring nurseries, hoping to fall in love with a few great plants, and then to figuring out where to shoehorn them in. As we all know, gardens never stand still, and each season brings special delights as different plants are in their glory. And working in the garden often includes chatting with neighbors who stop to talk about the garden, or ask how Lady Flora is doing….welcome!
---
Christ Our Redeemer Lutheran Church Community Garden
1900 Pine St.
This community garden started about 5 years ago in response to meeting the needs of those experiencing low income challenges and food insecurity; thus also fulfilling the church's mission to serve the local community. Church volunteers gave time, talent, and treasures to build the fence and 9 raised and 6 straw bale garden beds. Grants from Cedar Hills Church and through a grant awarded to Sandpoint from the High Five Community Transformation Grant financed sprinklers, more raised beds, and the orchard and berry patch. The city grant was given by the Blue Cross of Idaho Foundation for Health with the purpose of improving the health of our youth in their physical activity and access to healthy affordable foods.
Church volunteers and those renting plots built by the church (which helps pay for watering costs), maintain this special garden. The yearly harvest is open to the public and is given to Sandpoint's Food Bank. This garden has been visited by the local elementary school for a gardening 'field trip' and is more successful each year in its community use. Donations to the church are greatly appreciated and are tax deductible. Please memo 'Church Community Garden'. Volunteers are always welcome and encouraged for both maintaining and harvesting!