2022 Garden Tour Just Around the Corner, July 9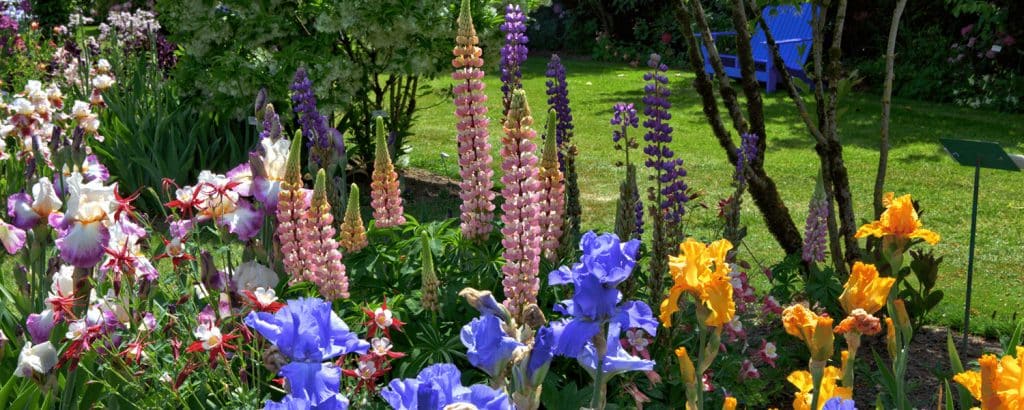 *** Online tickets will not be sold after 7/6 to allow us to prepare for the Garden Tour, BUT you may still purchase additional tickets with cash or check at any of the home gardens on the tour ***
We're getting excited about our upcoming 2022 Garden Tour, just around the corner on July 9th (10 am – 4 pm)!
Each garden featured is a unique and stunning representation of the variety of landscapes that can be found within the city of Sandpoint. The owners of these stunning properties have invested much time and thought into nurturing gardens with personal touches and organic beauty.
Tickets to the Garden Tour may be purchased at any of the gardens at any time during the tour on July 9th. $15/person
Get directions to each featured garden on the Tour:
36 Crooked Ear
This young garden, started in the fall of 2019, is a composition from 3 people: a landscape designer, a hardscape designer and the property owner. Ideas were suggested & melded together in the process. It is still a work in progress! (Wheelchair & stroller friendly)
---
504 Euclid
Located in Old Sandpoint, this garden features a mixture of perennials and annuals scattered throughout, with the special attraction of a backyard sanctuary that is a perfect spot to sit and relax with friends and family. A soothing water feature draws visitors into the space, which is also highlighted by a rock fire feature and a meditation garden.
---
502 Marion
Nancy's Garden – wild and formal are beautifully woven together from towering trees to ground hugging greenery. This garden is literally bursting with sweet summer blooms and exuberant foliage lovingly collected and tended to by Nancy for over 16 years.
---
712 Whiskey Jack Rd
This garden has a very peaceful setting beautifully terraced going down to Kootenai Bay with landscaped islands, vegetable boxes and raspberry plantings. Brightly potted flower arrangements decorate the deck and entry.
---
9969 Lakeshore Dr
When venturing to this garden the ten miles down Lakeshore Drive from the Longbridge will delight you with its beauty. It's hard to imagine that the handcrafted house at this garden was a ramshackle dilapidated 100+ year-old barn only 13 years ago with no trees in sight. You are in for an exceptional treat of stunning flower beds interspersed with mature fruit trees and ornamentals. Don't forget to view the lavender garden along the parking area!
---
530 S. Marion
This garden features eclectic yard art that has been re-purposed from loved but forgotten items. Vegetables and flowers are intermingled to create a haven for butterflies and bees. This continuously evolving garden is the most satisfying work in progress to the owner; it is her happy place.
---
Healing Garden
Adjacent to Bonner General Hospital is the Healing Garden. Covering about one acre with over 1000 different plant and trees, it includes a fountain, tea house, chapel, children's area and a view of Sand Creek. It is dedicated as a memorial for loved ones who have passed. A number of organizations and individuals make the Healing Garden a continuous project of love, including BCGA. Pathways for easy walking.