The 2014 Bonner County Gardeners Association Garden Tour consisted of 8 home gardens in the Hope, ID community.  This page contains photos from each garden.  (Click on Photos to view larger image)
"Symmetry in Motion"
David & Yvone Blalack
Your eyes dart everywhere at once trying to take in this lush garden all in one blink.  Take a breath and walk slowly as to not miss the other lovely plants and flowers trying to get your attention away from the wide brimmed hostas commanding all the appreciation in this garden.  The expansive rock fireplace is a great companion to the statuette fountain contributing nicely to the courtyards ambiance.  Step through the gate for a peek at the greenhouse, allowing your eyes to glide down toward the lake and back at the flowers on high hooks or safely nestled inside the fence.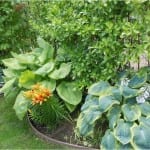 ——————————
"CORNUCOPIA"
Mike and  Becky Freeland
Follow the flintstone pathway to the back garden and into "Relaxation Avenue" and take a moment to breathe deeply.  The massive double fountain is the music in this back garden of wonders.  Specimen after specimen of plants, shrubs and trees will give you pause as you stop to ponder their identity.  Come full circle back to the "Garden of Eatin" and fully take in this magnificent vegetable garden, which doubles as the neighborhood produce stand in summer.  Fruiting trees keep watch over the veggies and lead you over yonder where the greens and various berries hand out.
——————————
"COUGAR CREEK COVE"
Neil and Ann Wimberley
A Newly added covered front porch is a pleasurable haven for Jon and Connie, while providing the visitor a colorful welcome.  This 35 year old garden got its "roots" from the generosity of neighbors and friends sharing plants, shrubs and grape starts with these grateful owners.  A clear favorite is the "Loman" grape arbor which provides a cool sanctuary on hot summer days as well as a delicious wine for the table.  The eight to ten foot tall helianthus is a true show off from late summer till frost, the height needed in order to be noticed in this vast garden.
——————————
"COUGAR CREEK HOMESTEAD GARDEN"
Jon and Connie Burkhart
With the Cabinets at their back and the Monarchs at their feet, Neil and Ann feel snuggly embraced .  The front yard fountain accompanied them from Alabama and is keeping company with a bench made by a grand daughters 4th grade class.  Sold at her auction "Art from the Heart" funding art in her school.  Tall etched ferns soften and give life to the dry stream bed leading you to the back garden and splashy water feature.  Vignette after vignette of planting themes are found as you stroll around this garden unveiling its secrets.  The expansive vegetable garden keeps this family enjoying fresh produce all season with the excess preserved for winter.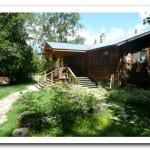 ——————————
"HOPE WITHIN GARDEN"
Jack and Yvone Harlow
An Unusually robust Japanese maple graces this circle driveway where Yvone and Jack enjoy sitting with their favored geraniums enjoying the view from the porch.  A thick patch of raspberries lead you to the side yards where a raised bed shows off its full season of color.  Wrap around the impressive outdoor living space "pergola" and slowly cast your eyes upwards to the many centuries old cedars standing so protectively.  Shade loving plants slowly transition into sun worshipers such as the many varieties of dahlias as you navigate this garden.
——————————
"STRONG CREEK HOBBIT HOUSE"
Vikki Johnson
Strong Creek bathes this garden in sounds from the thunder of tumbling stones to the rush of water escaping over rocks.  Slabs of stacked rock is what gives this garden its design and feel of movement matching that of the creek.  Ferns, hostas, coleus all find homes nuzzled tightly in beds in an array of shapes and sizes.  Vegetables like tomatoes and peppers are poked in every sunny nook, basking in limited warming rays.  This small stature garden is big on conversation clusters of seating all vying for a time spent with the suns glorious warmth in this otherwise lush but shady garden.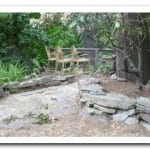 ——————————
"HAVEN OF HOPE"
Bob and Ellie Lizotte
Bob and Ellie have been enjoying this garden for 42 years and each has found their specialty.  Bob is the "veggie guy" who cares for a large garden of vegetables, fruit trees and berries of numerous varieties.  Meanwhile Ellie is the "flower girl" who is also in charge of harvesting all things edible.  Walk through the gate to visit the orchard, greenhouse and berry patches (shhhhhh!, sneak a strawberry when no one is looking).  Wrap around the house and down the steps to the new and restful stone grotto, replacing a bank of unsightly weeds.  Take a moment to appreciate the wooden bowl made from the fallen beloved 100 plus year old "Butternut" tree that is so dearly missed by these owners.
——————————
"LAKEVIEW MOUNTAIN GETAWAY"
Hart & Leslie Gleason
An enclosed courtyard complete with gurgling fountain and mature vegetation is the favored location in which the owners Hart and Leslie often find themselves.  The cool shady beds of hosta and bleeding hearts lead you along to the orchard, veggie and berry gardens.  Circle around this garden over the large connecting deck system teeming with plantings from fragrant roses, lilacs, iris to stately peonies.   An added bonus is a plum tree loaded with delightful sweetness to come.  Step into the guest house for a cooling beverage, tasty treat and a tour of this Lakeview Mountain Getaway Rental divinely decorated with comfort in mind.